Marcella Magliucci, 53, journalist from Milan, had everything else in mind but to get a dog – at the time. The big surprise struck three years ago on a family vacation in Sicily. Here's the amazing story of how, two (fairly big) dogs and one divorce later, Marcella reinvented herself, designing and producing the most beautiful taylormade dogs' clothes. And when the going gets tough, there's still "breakfast at the pastry shop" which everyone in the "family" loves
Where did you meet the dogs that changed your life, Nina and Tito?
I met Nina on the beach of Pozzallo, in Sicily, on January 1, 2020. All alone and eager to cuddle, this big puppy started playing with my son Giacomo and spent the rest of the morning by our side. Even though Giacomo insisted, we couldn't take her home with us, first of all because we were on the island for the Christmas holidays, second because in our hotel in Ragusa dogs were not allowed. Last but not least we didn't even know if she belonged to somebody (even though a her severe dermatitis suggested she didn't). Reluctantly, we left her on the beach to play with another dog she had met in the meantime.
The next day, we went back to the beach to look for her, we simply couldn't forget about her. We arrived fairly late and there was no trace of the little dog, so there was nothing left to do but to go for dinner. Leaving the restaurant and just about to hop in the car we finally saw her: She was waiting for us right there! The message was clear: This dog had chosen us and we certainly couldn't leave her there. So we called a vet who left his family dinner to join us, examine the dog for any serious health problems and to check her for a microchip. Nina (the name we had chosen for her) was in good health, luckily, didn't have a chip and was supposedly 6 or 7 months old. Unforgettable, the advice the vet gave us on the way: "Wait for her first heat and have her sterilized…"
Within a few hours we threw away our plane tickets, rented a car, booked the ferry and left for Milan. But the surprises weren't over. After about twenty days Nina began to change. She seemed to be suffering, was very lethargic and anything but herself. Fairly worried about her, we had her examined again and found out our puppy wasn't only healthy but was expecting no less than nine puppies! The first heat we had been waiting for was doomed.
By the time she was about to give birth, Covid struck. And even though she was lucky to be in the clinic, only four out of nine puppies survived, due to the strong medicines she had taken to combat her dermatitis.
We called the little ones Tito, Kobe, Cookie and Belle. Thanks to lockdown, they grew up in the warmth of our house, with the adventures that the garden of our condominium had to offer. The people of the house, especially the kids, were happy about the distraction, to have someone to play with etc. By the time the puppies turned 3 months, we had found families for our puppies and, two of them found a home just a few kilometers from our house, the other two didn't even change the adress: Tito stayed with me and Kobe, his sweet little brother, lives upstairs and spends most of his days with his mom and brother.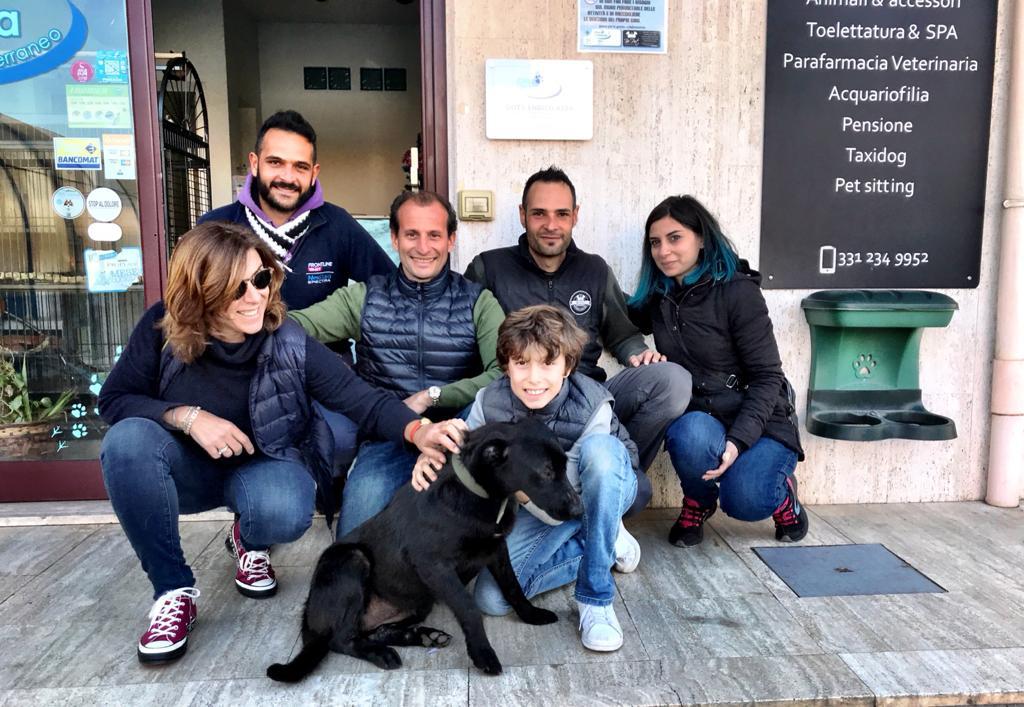 In what way did the dogs change your life?
In Milan there are many dog ​​areas to let the dogs run free and socialize. Thanks to Nina and Tito I have met many people and some of them have became true friends. But the real revolution in my life is the small artisan company that produces tailored garments for dogs: I couldn't find good-quality raincoats at acceptable prices, so I bought some fabric and had two raincoats made. Wearing them in the dog area and on the streets of Milan, many people asked me to make one for their dogs too. My company was born! Not only a new thing to do in a completetely different and quite inspiring sector, but also some kind of therapy at the time: While I was getting separated, my new business gave me the stability I needed and helped to reorganize my life. Nowadays I attend all the important fairs of the sector, I get to meet many new and interesting people. A whole new life in a whole new world. Without Tito and Nina this would never have happened.
If your dogs were people – who would they be?
Nina is a petulant spinster aunt, who scolds the little as well as the big ones but who melts into an embrace of the people she loves. Tito would be the funny, nice, good cousin, always ready to go out for drinks with friends and have a great time.
Do you have a "trick" that always works? That makes them listen no matter what?
The sentence "Let's go to the pastry shop for breakfast!" works wonders. That goes for everyone in the family by the way!
Why do you love them?
Because they are my dogs and they are full members of my family.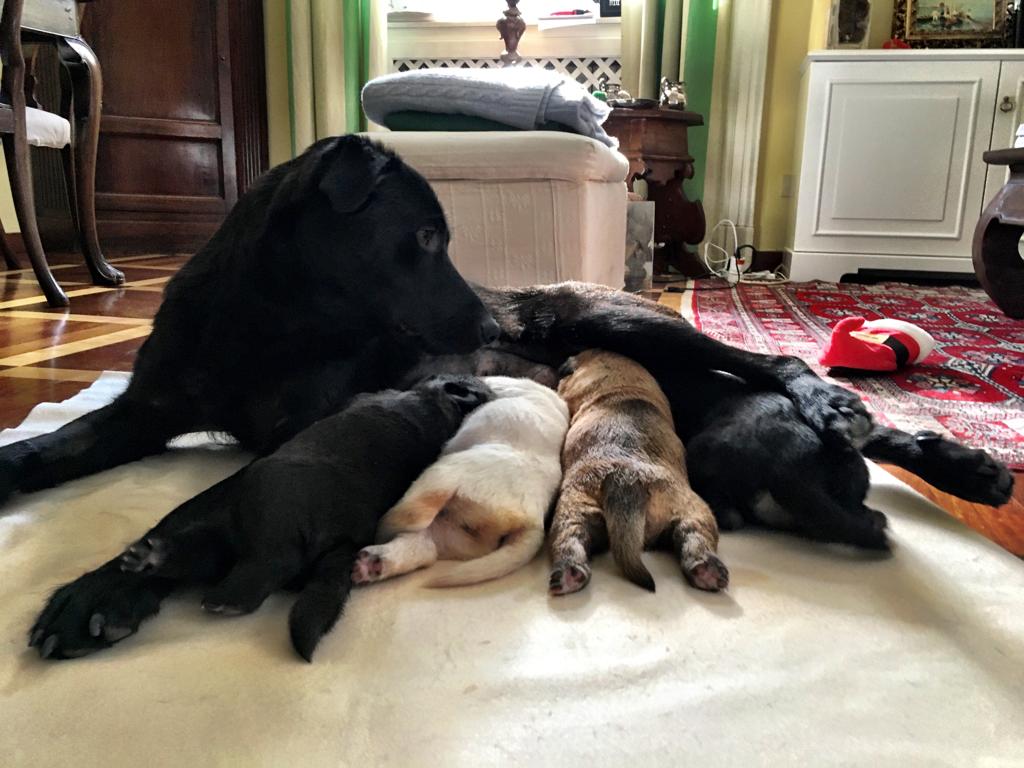 Where do you leave them when you go away for a couple of days?
Nina and Tito have a dog sitter who loves them and who I chose extremely carefully watching him "at work" for a few months. They go for walkies every morning. I usually take them out very early in the morning, in the afternoon and in the evening. They have never gone to a boarding house or slept alone.
Do they sleep in your bed?
Yes, they do. Luckily I have a kingsize…
Any advice you would like to give to someone who wants to get a dog but can't decide?
Think about it very carefully. The dog is not a toy, it is an important and constant and sometimes heavy commitment. It is the choice to take in a child who will never grow up and who you will have to take care of for its entire life. Don't get a dog for the children! They will soon get tired of it and you will have an extra child. But if, after thinking about it really well, considering the many changes and commitments you will have to face, you still decide to get a dog, then (unless you are in love with a particular breed) go to a kennel or shelter and choose your friend for life there. You will recognize him among thousands and its love for life will be the best reward.
PS: Want to know more about Marcella Magliucci's artisan company and her taylormade products for animals? Check it out on Instagram @zampaly_pet_shop