"I would always take a dog that's already trained by professionals. It makes things so much easier!" Yet, Pernille, 57, and her family were incredibly lucky to get little Minnie, who is not only perfectly educated and well behaved but also seems to have a sixth sense for people in need. Since Hannibal, the third son of the Danish family living in Puglia, is about to move out, he gets to see his dear Jack Russell always less – to the (secret) joy of his mother Pernille who's always felt like Minnie's "real" master
Your Jack Russell Minnie is now 14 years old. How did you meet?
Our son desperately wanted a dog and kept begging us to find one for him. So when his two older brothers moved out (they are 10 and 14 years older) my husband and I finally gave in. Travelling often we needed a small one that we could take anywhere, any time. I had always liked Jack Russells as they have big personalities, even if they are a small breed, and stumbled across a note in a local newspaper: a female Jack Russell, already trained, 6 months old, to adopt because its family couldn't keep her for some reason. Sounded almost too perfect to be true. We decided we wanted to have her over for a day to see how everything would work out. We also had to be sure she was getting along with my parents' dog. I remember how surprised I was about how little Minnie was! But still: already trained to stay in her bag, to walk on a leash and to sit when she was told so.

Was it love at first sight?
Absolutely. I remember how I calculated: Minnie was meant to be our son Hannibal's dog in the first place. But he would eventually leave home some day – and leave his dog with us. Given that Jack Russells often reach 15 years of age we'd have some alone time with her, too. My calculations turned out to be right. And, to tell you the truth, I always felt that Minnie was my dog!


What's so amazing about Minnie?
She is extremely responsive! If I tell her to sit outside a store, she will not move and wait for me just there. Hannibal taught her to do lots of tricks like rolling around, sit tall and even howl. We always walk without a leach, she simply doesn't need any.

How would you describe your relationship?
Minnie got very attached to me and follows me everywhere. But if I am not around she simply finds herself another fellow to follow. I love that she's kind of flexible in that sense, independent really. In the Masseria she knows exactly what she can and what she can't do. I never allow her to sleep in my bed for example and she respects that. Nevertheless she must have "learned" that some people allow it and some people don't. So she actually makes an effort to find those among the guests who do allow her.  

Do you have a secret code? 
She is responsive to a few commands like "stay", "walk nicely" and me calling her name o whistling. But that's only one thing.
I think our relationship is based on trust. She trusts me to take care of her and to always come back when I leave her. And I trust her to do what I tell her to do and to protect me. I am not afraid when I walk in the streets with her without a leash so she is calm and attentive of where I am. My husband is more worried that she might suddenly walk out in front of a car so when he is around she seems confused and less responsive. I guess she feels that he is worried and doesn't trust her to stay in place.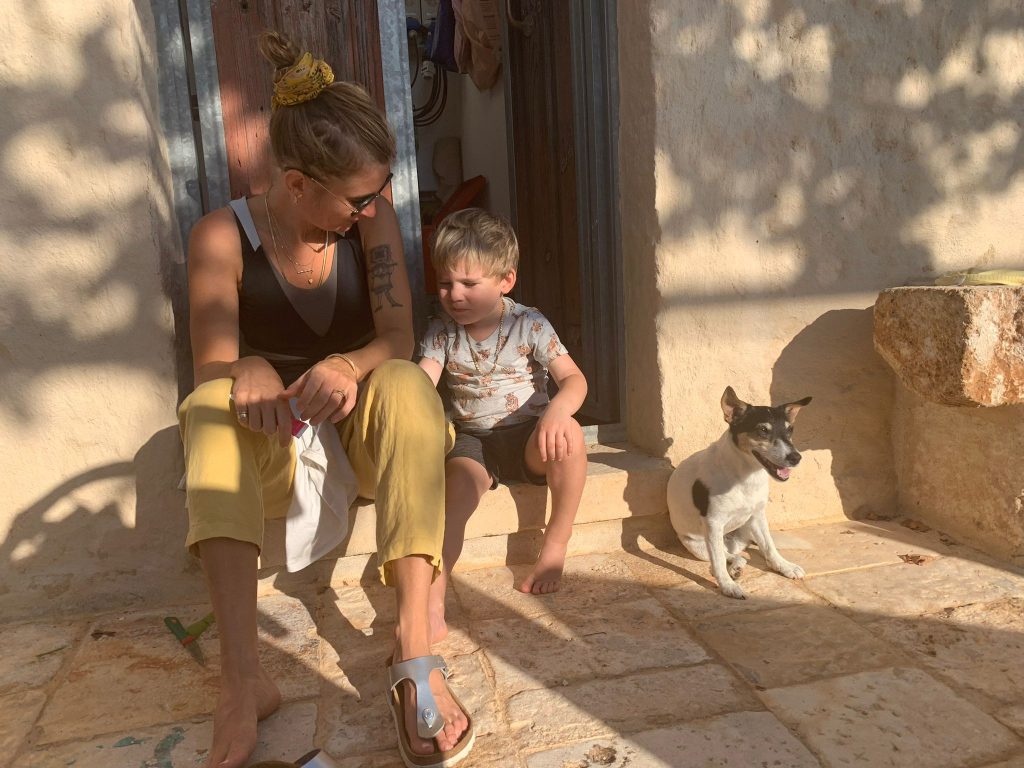 Why do you love her?
She is very gentle and devoted with people but also a free spirit. A bit like a cat. She is also very delicate and cleans herself like cats do… 

Where do you leave her when you have to go away?
She is happy to be with anyone actually, but always happy to see us again. She is so easy-going!

Is there anything that annoys you about her? 
It has been a couple of years that she is kicking her bowl around when she wants to eat. If I don't move fast enough to fetch food, she starts kicking the water bowl – and makes a big mess. Super annoying for everyone but it works: I always feed her to make her stop!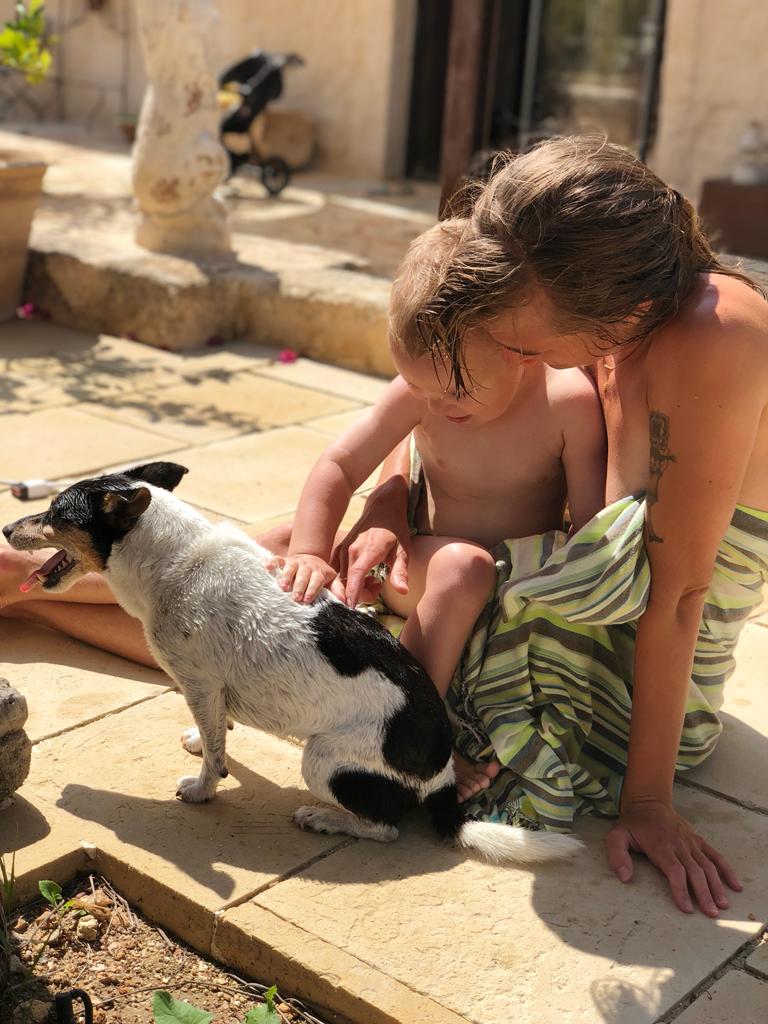 Is your dog part of the family and part of the household?
Definitely. She sleeps with our sons and grandchildren and they miss her a lot when they're back in Denmark. Our daughter in law didn't like dogs before but she loves Minnie and now they are talking about getting their own dog.

Any advice you would like to give someone who wants to get a dog but can't decide?
If possible get a dog that was already trained by professionals. So many people underestimate the effort it takes to train them properly. Personally I would do it again – but who knows if we would be so lucky one more time.
PS: The Lembcke family owns and runs Masseria Schiuma, a small Masseria between monopoli and Savelletri. Pernille has changed her profession a couple of times over the years, teaching art and religion, working as a stylist and casting director, developing a wellness brand. Recently Pernille and her husband Lars started a business to restore houses for selected people in Puglia.