"I don't understand why people want puppies so badly! You can't choose an animal based on looks." Tina Schlegel, writer and journalist in Germany, went a different way: She found her mixed breed Leo, 7, through an animal protection organization. Part of her conscious lifestyle, but not only. Tina is convinced that "there's a perfect dog waiting for each one of us, in a kennel somewhere. One to fall in love with."
How did you meet Leo?
Leo is originally from Romania. We absolutely wanted to get an animal from animal protection, an issue I've been very passionate about for years. Saving a dog from unbearable conditions was our main target. Leo was picked out of more than 500 dogs because he was a victim of bullying, never got enough to eat. We were introduced to each other by the end of June 2020, and he moved in with us a couple of days later.
What's so amazing about your dog?
Leo is a late riser. And he loves to cuddle! The best for him is his paw in the hand of one of us humans, being scratched on the stomach and falling asleep – again. Wonderful. Eating is his second favourite. He's a vegetarian, like all of us. That often causes astonishment, but dogs are omnivores by nature, cats aren't as flexible. Leo is healthy and happy and, according to the vet, in top shape. When I'm writing, he loves to be as close as possible, napping on his yellow dog sofa in one moment, the next sitting up and looking at me, and when I smile at him he will lie down again. He is very grateful and seems to understand how lucky he has been! And, frankly, if I had the space and the time I would adopt a couple of dogs more.
Then Leo loves our rabbits, who roam freely in our garden. He used to be particularly fond of one of them, Branko. While he was eating his greens, Leo sat next to him and watch. When Branko was done, Leo went out checking if there were any leftovers. He would never have eaten first, never chased away the rabbit.
How would you describe your relationship?
Leo is a family member and looks after his pack without ever questioning the hierarchy. He looks out for us (sometimes more than necessary) and would defend us at any time.

If your dog was a person – who would he be?
I think Leo would be a dreamy artist. There's something quiet, withdrawn and somewhat romantic about him. A hedonist, sitting with a nice glass of wine watching the sunset.
Why do you love him?
I love how close we have become in no time! I never worried that he might run away. And apart from many sweet and funny things he does I love him because he would stand up for "his" family, there's no doubt about that.
Where do you leave him when you have to go away for a couple of days?
Actually we never leave him, we always take Leo with us. We don't fly, not only because of Leo, but also for ecological reasons. We usually rent an apartment where Leo feels comfortable, too, often in the Unterallgäu where I grew up, but also elsewhere. Since Leo is very attached to us, I wouldn't want to risk giving him away for a holiday and traumatize him, so that he might never want to be alone any more. I'm terrified of the idea that his old wounds could open up. That would certainly not be worth the holiday! Last but not least we're all convinced that a holiday with a dog is much nicer than one without.

What are your favourite things to do with him?
It's because of him that I've become a passionate walker. We walk in the woods for hours! In the evenings we öfter cuddle with Leo on a giant beanbag in front of our fireplace. When I go to do a reading, I usually take him with me. Not only because he makes me feel safe but also because he attracts attention. I'm always happy to tell his – our – story!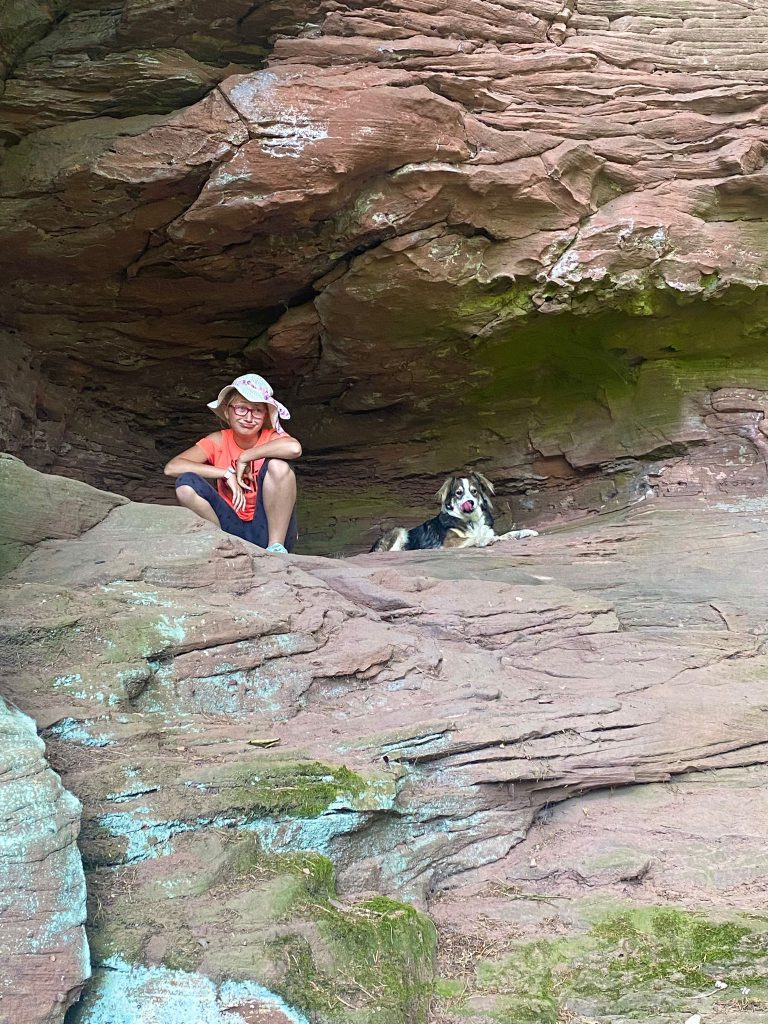 Is your dog part of the family?
Definitely. Just like our two rabbits and guinea pigs, all of them taken from shelters. The rabbits live in our garden and move freely. They prefer to be on the terrace with us though, because that's where they usually find food and cuddles. Leo loves them all. My partner and I work from home so Leo can be with us all the time. Since I write books, I can choose where I work and I often end up in the garden with Leo, who climbs onto the me bench with me to just be close. I can hear his breath and the birds chirping as I write, that's amazing.

Any advice you would like to give?
I do suggest to get in touch with the local animal shelters. I often wonder why people want a puppy so badly, even though it doesn't suit their lifestyle. Think carefully about how much time you have for a dog, what you expect from the animal and what kind of dog it is that you want. You can't choose an animal based on looks! I truly believe that everyone can find "his" dog in a kennel. One to fall in love with.

PS: "Dogs appear in all my books, of course. It would be weird if not, my characters need them as much as we do, says Tina Schlegel, 49. She has been writing for various newspapers, currently for the Augsburger Allgemeine, and since 2015 also novels. Seven of her crime novels have been published by Emons Verlag and this year her first romance will come out Tina Schlegel lives in Kempen on the Lower Rhine.