Noisette from the Middle East
Did you know Dachshunds were among the most popular breeds in Israel? In the part of Tel Aviv where interior designer Ilana, 63, lives, there are at least 20 of them, as she says. And the owners would organize walkies and parties to share this important part of their lives with likeminded people. Noisette is Ilana's fourth Dachshund: The art lover just cannot resist when she comes across an beautiful litter. As is happened during Covid confinement. But she found a way to get her precious little puppy who is now three years old
Would you please present yourself briefly?
My name is Ilana, I'm 63 years old, I'm an interior designer, with a passion for design, art and fashion. And I absolutely adore dogs (and cats). I was born and raised in Geneva, Switzerland, lived in New York City for 6 years where I studied Interior Design at the Parsons School of Design, before returning to Switzerland to start my own business. Seven years ago I moved to Tel Aviv with two dogs and a cat.
Tell me about your dog!
Her name is Noisette, she is a standard dachshund, long haired, chocolate and tan. She just turned 3 years.
Where did you meet and how did you connect?
It was during the Covid confinement. My last dachshund Punky had just passed away at the age of 14  (Noisette is my fourth of the same breed) and I was scrolling through Facebook when I saw a post from a breeder in France showing a litter of puppies. I immediately fell in love with one of them, the chocolate one, and shared the photos with my brother Sam who is also a great dog lover. To my surprise, he offered to buy the puppy as an early birthday gift for me. There was just one problem: How to pick her up?  The whole world was in lockdown, the airport in Israel was closed and no date for the reopening had been announced. Luckily, everything went well. A friend of mine picked Noisette up and took care of her until I could finally fly to Geneva to pick her up. 
What's so amazing about your dog?
She is the sweetest yet the most stubborn dog, typical of the dachshund breed. She's playful and loves cuddles and can even be arrogant when I scold her.
I once was fostering kittens who needed to be bottle fed. Noisette knew instinctively how to care of them, how to clean them to stimulate their needs etc. She's a natural!
How would you describe your relationship?
I would say that we complete each other. She is extremely attached to me, follows me everywhere, even to the bathroom, which is also typical of dachshunds. She simply needs to be close to me, always, maybe also due to the fact that during the confinement in Israel she became used to me being around all the time.
Do you know about her secret passions?
I don't think she has any secret passion! She is the happiest when we go out and walk the streets of Tel Aviv. I try to take her at least twice a month to the dogs' beach, where she gets off the leash and runs free. She enjoys swimming in the sea as well!
How do you "understand" each other? 
A certain expressionof mine is enough for her to understand she didn't behave well. 
If Noisette was a person – who would she be?
My best friend!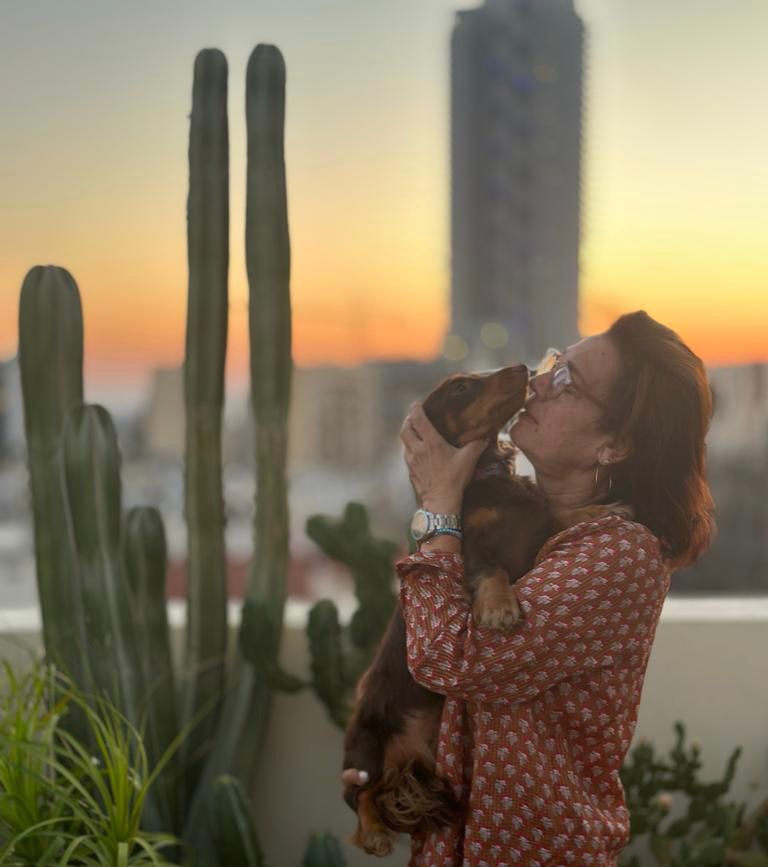 Why do you love her?
For the joy, comfort and company she shares with me. The unconditional love dogs bring to your life has no limits and only dog owners can understand it.
Did your dog ever bring you closer to other people?
Dachshunds have become quite popular in Israel, in my neighborhood only there are 20 of them! We organize meet-ups at the beach or in dog parks which is lovely for everyone.
Is there anything that annoys you about her?
She is quite stubborn. Dachshunds have a strong character and do as they please. 
Any advice you'd like to share?
Dogs are lifesavers. But when you get a dog you have to commit and understand what your responsibilities are. You might not be able to travel as often as you would like to, or make sacrifices because they are home waiting for you. What you get in return is their unconditional love.  That is all that matters.